Dropdown menu overlap when screen size between 600px and 782px
Description
When Buddypress is active on a Wordpress 3.8 website and the screen size is between 600px and 782px between @media and min-width: 601px and @media and max-width: 782px there is overlap in the drop-down right side menu for all of the secondary logged in Buddypress items, like Activity, Profile, etc.

I have attached a screenshot of this happening on the actual Buddypress.org website, so it is an issue with the css coding in the plugin.

It has to do with .ab-sub-wrapper in the css, it needs a right: 100% or something similar to that to fix it.

This occurs on Safari, Firefox, and Chrome on the mac and the iPad mini (which has a screen size between those sizes which is how I discovered it.)

Here is a snapshot of the overlap occurring on the Buddypress.org site: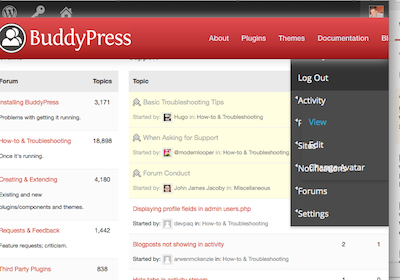 Thanks!

Charles